In our latest survey, we wanted to know what's most important to you when choosing a supplier of Panel PCs for your machine refurbishment. Here are the results.
When the built-in control and operating elements of a machine are already ageing, its mechanical condition is often still so good that a complete replacement would be uneconomical. The decision then falls in favor of the exchange of the most important electrical/electronic components, such as the touchmonitors or touch PCs - in the best case from UTICOR.
With products that literally fit, you bring your machine or plant quickly back to the state of the art. Custom made for you from rugged components and quickly on site! No 'Made in Somewhere' but Made in Germany in a quality that you can expect from this name.
In our last survey, we asked you about your exact demands. And these are the results:
Reliability In The First Place
According to the findings, the reliability of our products comes first for our customers. Interpreted quite freely, this means that UTICOR products are primarily chosen in modernization projects because of their superior quality. - That pleases and honors us!
With some distance behind it follows the long postpurchase possibilty of the selected system on rank 2. Of course: Once you have decided on a retrofitting solution, you would like to use this again for several years!
Unsurprisingly, the possibility for individual configuration and the 1:1 exchange without further adjustments (Drop-in-Replacement) find themselves together on position 3.5. After all, this is about the same aspect, namely the tailor-made design of the desired replacement unit according to the customer's specification.
With 'robust construction' on rank 5 follows the characteristic of the longevity in harsh environments. A factor to which we dedicate ourselves through a solid design of our products and the meticulous selection of the built-in components.
Since machine modernization projects are not decided and implemented overnight, the requirement for a fast delivery only follows at position 6. We have clarified the requirements that our customers are placing on us regarding this aspect specifically in another question (see below).
Reliable devices do not fail. That's why a quick repair service in Germany also plays only a minor role (Rank 7). However, we assume that our customers appreciate a fast repair process in case of a sudden breakdown.
With a customized solution one can dispense with further, extensive accessories, which is why this point only reaches the penultimate position.
In addition, the study results are confirming our assumption that the very least make a selection purely on the basis of price. And in fact, our customers put this aspect on the last place. They know that customized products with long-term purchasing options and high quality are not available at discount prices.
Here again the ranking in overview:
1. Reliability
2. Long post-purchase opportunity
3.5. Individual configuration
3.5. 1:1 replacement without additional adjustments neccessary
5. Rugged construction
6. Fast delivery
7. Fast repair service in Germany
8. Extensive accessories
9. Low price
Project Duration App. 4 Months
Furthermore, we asked you about your expectations regarding the timing of the individual project steps. On average, the following course was shown: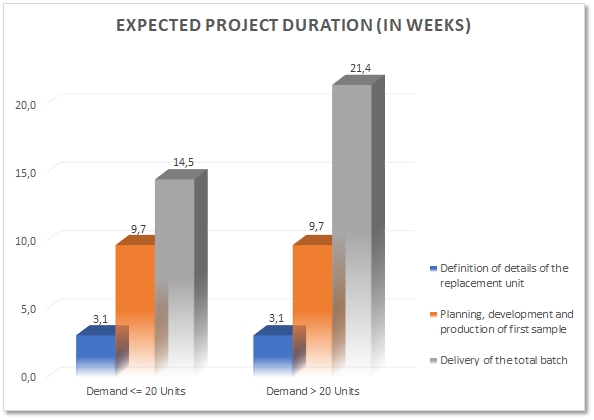 For the specification of the unit details, customers are expecting about 3 weeks. Until production of a first sample, another 6-7 weeks are added. For the entire project duration, customers anticipating a period of about 3-4 months for up to 20 units and about 5 months for quantities that go beyond that. From our point of view, this is quite realistic. However, from our experience, the necessary, internal coordination within the client's organisation is often longer than originally expected.
We will use the results of the study to adjust our products, services and processes even better to your needs. Our promise: We try harder!