What Is EZRack?
The EZRack was primarily designed as an edge gateway for entry into Industry 4.0 applications. Hence, this system enables you to implement e.g. condition-based maintenance concepts quickly and easily. At the same time, the EZRack is a fully modular PLC system for industrial use with features that are otherwise only found in premium-class controllers. In contrast, the price is at the level of compact controllers. And: The full version of the programming software is completely free!
What Are The Features?
EZRack is available in versions with 3, 5 or 7 slots including power supply module. The CPU is equipped with 2 serial ports, Ethernet port and USB port as well as Micro USB port. To complete the system, it can be equipped with several digital and analog I/O modules plus various special modules (e.g. high speed counters, thermocouples, etc.).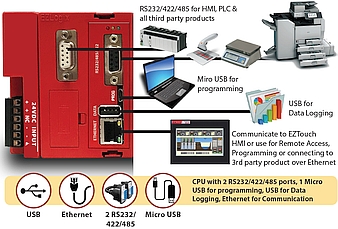 And these are the specs:
2,4 ms Scantime Per 1k Instructions
1 MB User Retentive Memory, 500K Instruction Words, 16K Registers
Hot-Swappable I/O Modules
Auto-Tuned PID Control (8 Loops)
32 Bit Floating Point Arithmetic
The Software offers:
IIoT/I4.0 Ready CPU With Built-in MQTT Protocol
Auto Tag Name Addressing / Programming
Programming in Simple Ladder Logic
Rich Instruction Sets
Advanced Function Blocks
USB Data Logging up to 64 GB
Offline Programme Simulator
Powerful Debugging Tools
High Speed Counter, Drum Sequencer, Timer
Further Highlights:
Access Via Smartphone Or Tablet Over WiFi

With the right EZWifi module, you can not only monitor the EZRack CPU via smartphone or tablet PC, but also both programmed offline and accessed online while in run mode. And dont' you worry about security accesss, as each EZWifi module has its own unique SSID and password and data transfer is encrypted via WPA2!
Rich Instruction Set

With optimized instruction sets whether it be simple ladder relay, boolean, move, bit logic instructions etc... or advanced math instructions for complex algorithm, the EZRack software has it all.
This free programming software has been designed to provide our customers a more flexible and easy to use programing of their PLC. In addition, you always have all the essential information about the PLC status, function blocks, data connections, debugging mode etc. in view.

The EZRack functions will continue to grow upon customer requests at no additional costs to upgrade.
Advanced Function Blocks

This is something you'd usually expect from premium-class PLCs only:

EZRack support of function blocks simplify programming operations such as timers, counters, break points, compare functions, averaging, min/max, scaling etc. They also make it easier for end-users to follow with a graphical language in case they are not as familiar with typical ladder wiring diagrams.

Everything included with us - just to make programming is easier for you even in complex projects.
Integrated Simulator

The built-in simulator creates a virtual PLC so you can test
your ladder logic without any PLC hardware present.
• Our Windows application uses the same code as the EZRack CPU firmware for the most accurate simulation.
• It simulates discrete and analog I/Os with access to timers, counters, control bits, etc.
And if you eventually connect your EZRack, the I/O modules will be automatically detected and the respective tag address range will be assigned correspondingly.
Powerful Debugging Tools

Break Point Debugging and Forced In-/Output will help you troubleshoot your program: In the first case, set breakpoints at different positions in your program, then look at the values ​​in the respective variables when stopping, to find fault causes. In the second case, you specifically set inputs/ outputs (if necessary, to a certain value), so that you can obtain the required results in the corresponding section of the program. This will then enable you to see where the potential bug in the ladder logic code resides.
Data Logging Via USB

Good to know what's going on in the plant. With the Data Logger, you can easily store critical variables that you want to keep in mind at predefined time intervals or in certain states on a USB stick. In this way, you keep track of your processes and can observe parameter changes or possible causes of errors in a long-term check. Furthermore, you may also stay connected from anywhere in real-time with plant production and maintenance data using EZRack secure IIoT/MQTT protocol for data transfer.
And what should all this cost? Less than you think, because the software is available for free with the scope of service described here! Including simulator, debugging tools and function blocks, which are regularly supplemented on the basis of user requirements.
To get started with the benefits of EZRack, you can download the programming software here.
As a full version. Free of charge. Without registration.