Customizing...
… of your machine, system or application has never been as easy: The new EZ12 HMI series is not only easy to program and mount, it can also be personalized with your own logo and start screen.
1. Front Panel With Label Insert
An insert for your company, division or machine label is provided in the front frame. The logo or designation is thus protected after installation and invariably safe in the device..
2. Start Screen With Your Logo
Furthermore, not only in the project itself, but also in the power-up screen, your logo or that of your customer can be integrated. This makes each device even more individual and strengthens your brand in addition.
Further Highlights:
Integrated Mounting System

Mounting screws and brackets are part of the unit itself. With no external mounting material required, Installation is done in seconds!

Limitless Communication

Want to have it all? Programming port, USB (A), USB (B), COM port, Micro SD slot, Ethernet —
You name it!
Connect To 95% Of All PLCs - 2 Brands At Once!

Via COM port or Ethernet you are able to connect to nearly every PLC worldwide. To name a few: Siemens Ethernet ISO over TCP/IP, Modbus TCP/IP, Allen-Bradley Ethernet/IP to ControlLogic and CompactLogix…
And moreover: EZ12 lets you communicate to 2 different PLC protocols at once and exchange data between them!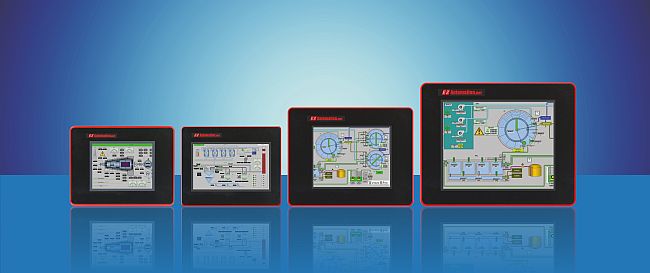 The EZ12 series is available in 4 sizes from 6 to 10 inches screen diagonal.

...And More:
Always On Track

Log alarms on SD card, send case-sensitive emails to relevant people involved, keep track of production data via text messages. These and more features are already built-in. Just in case, you need to know, what's going on in your production...



We Make Your Programmers Lives Easier!

Design your screen in minutes, with easily accessible toolbars, object database, tag database and screen lists. You'll get numerous newly designed icons, a symbol library plus a built-in simulator. Hence, our software is well-prepared, to transform your ideas into reality!
The HMI's themselves are very competitive priced. And with less than 150.00 Euro for the lifetime licence fee of the programming software, this series comes close to a no-brainer.