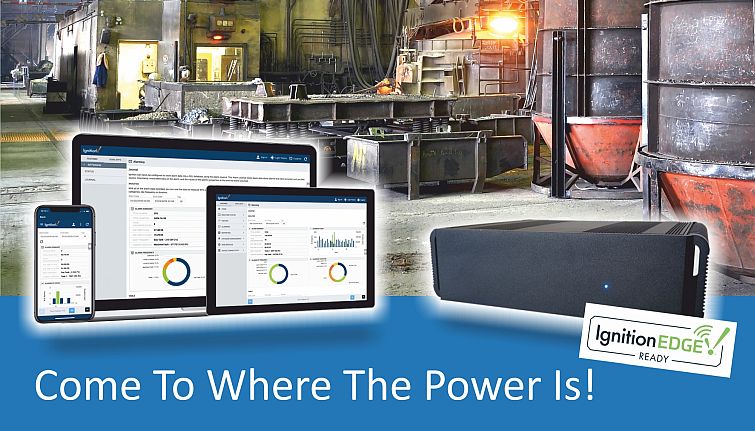 Small Box PC with big power! We now offer our smallest Box PC with quadcore CPU architecture together with Ignition EDGE, the most powerful automation platform on the planet from Inductive Automation® that channels all information about your production. This all-in-one bundle is the ideal basis to track your manufacturing processes easily!
---
System Description
The ideal combination to track your production processes easily:
Ignition - The fully-integrated automation platform for your entire production processes with limitless scalability from Inductive Automation®.
boxxed - The industrial-grade Box PCs from UTICOR with high performance and extremely compact dimensions.


Ignition EDGE Ready
For your convenience, we have integrated both "key player" into one system: the result is the i-boxxed Box-PC.
This fanless, low-power PC system does already have either Ignition EDGE IIoT and/or Ignition EDGE Panel on Board as standard and has been certified by Inductive Automation® for use in corresponding applications. As all our units of the boxxed series, the system comes with the latest industry-approved components to ensure a high life-span in a temperature range of 0-60°C.

Solid Construction For Industrial Use

Completely fanless / no moving parts
Aluminum housing with fins for optimal heat dissipation
Industrial CPU board for high operational reliability
Quad-core CPU with sufficient performance
Equipped with mounting rails for secure fixation at the installation site
High connectivity with 4x USB, 4x RS232, 2x GbLAN, VGA & HDMI

Best Solution For Every Application!
And if that's not sufficient for you, we have additional opportunities to offer: With us you can choose between several basic models with different processor performance and options such as GPS, WiFi, Power over Ethernet (PoE), VESA or DIN rail mounting. Thus, at UTICOR you always decide for yourself what is best for your application!
---
Technical Specifications
Specs Overview

Type

i-Edge-boxxed

CPU Board

Industrial 3,5" Embedded CPU Board With Fanless CPU

Low-Power CPU

Atom E3845 (oB) - Quadcore CPU

RAM Slots

-

Max. RAM (GB)

4GB oB

COM

4

LAN

2

LAN / PoE

-

USB

4

VGA

x

DVI

-

HDMI

x

DP

-

Audio

x

mPCIe / M.2 Slot

1 x mPCIe

PCIe / PCI Slot

-

Operating Temp.
(Low-P.-CPU + SSD)

60°C

H (mm)

55

W (mm)

210

D (mm)

125

SIM Card

(1, Option)

WLan/WiFi

o

Bluetooth

o

GPS

o

12 VDC

x

VESA-Mount

x

Wall-Mount

x

Weight (kg)

1,2

Volume (ccm)

1400

Article Number

i-edge-boxxed 1.4

x = available, - = not available, o = optional, oB = on Board, Gen = CPU Generation

Technical data is subject to change without notice!





Mechanical Dimensions



Each unit is equipped with
Ignition EDGE Panel
and/or
Ignition EDGE IIoT
from Inductive Automation®.
---
You have further questions before buying? Then please call

+1-563-223-8284 (for customers from United States)
+49 2154-89-1964-0 (for customers from all other regions)
or send us an email (This email address is being protected from spambots. You need JavaScript enabled to view it.)
Customized Automation - Just Right For You!