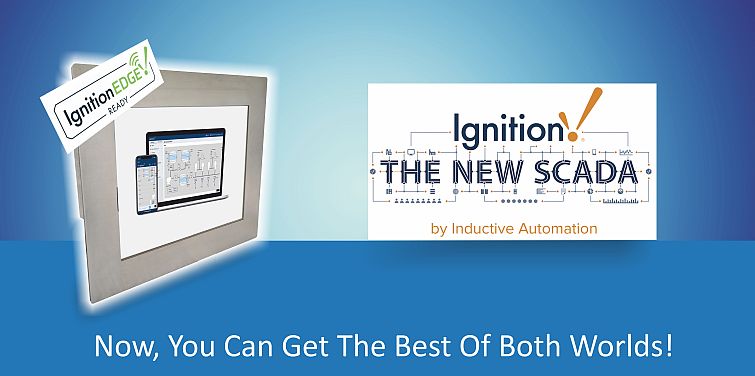 Rugged, Rock-Solid Panel PCs - Made In Germany &
Limitless, User-Friendly Automation Platform From California.

You deserve it all: Our reliable and sturdy Panel PCs with the latest processor technology, equipped with Ignition EDGE, the most powerful automation platform on the planet from Inductive Automation®, which provides all information you need for prices you'll be surprised about.
---
System Description
This might be the ideal combination:
Ignition - The fully-integrated automation platform for your entire production processes with limitless scalability from Inductive Automation®.
Productive Units from UTICOR - The Panel PCs with unlimited adaptations to your specific demands.


Ignition EDGE Ready
For your convenience, we have integrated both limitless components into one system: The IPPLP-i-Edge.
This fanless, low-power Panel PC does already have either Ignition EDGE IIoT and/or Ignition EDGE Panel on board and is certified by Inductive Automation® for use in corresponding applications. As all our productive units, the system comes with the latest industry-approved components to make it suitable for a temperature range of 0-60°C.

High-Tech Meets Stainless
Powerful components deserve conscientious protection. That's why we always rely on a particularly robust, durable and easy-care material for our Productive Units: stainless steel. This raw material proved its expedience in tough industrial conditions and is almost indestructable. It goes without saying, that such a design cannot beat plastic or aluminium in price. However, it is unaffected by external influences and - most important - lasts considerably longer!

Customizing is Standard!
And if that's not sufficient for you, we have additional opportunities to offer: With us you can choose between several basic models with different processor performance and screen size as well as between displays with or without touch function plus optional keyboard. In the event that you prefer a decentralized solution, we also offer pure monitor products, if requested also with KVM extender. And even if you have special demands regarding dimensions, exterior design or functionality, we can realize this for you! Thus, at UTICOR you always decide for yourself what is best for your application.
---
Technical Specifications
Specs Overview

PC Type

IPPLP-12-i-Edge

IPPLP-15-i-Edge

IPPLP-17-i-Edge

IPPLP-18-i-Edge

IPPLP-19-i-Edge

IPPLP-21-i-Edge

IPPLP-24-i-Edge

IPPLP-27-i-Edge

Display Size

12"

15"

17"

18.5"

19"

21.5"

24"

27"

Resolution (px)

1024 x 768

1024 x 768

1280 x 1024

1920 x 1080

1280 x 1024

1920 x 1080

1920 x 1080

1920 x 1080

Format

4:3

4:3

4:3

16:9

4:3

16:9

16:9

16:9

Contrast

700:1

700:1

1000:1

1000:1

1000:1

5000:1

5000:1

1000:1

Brightness (cd/m²)

600

400

350

350

350

300

260

400

Bezel/Front Panel

3mm Stainless Steel, Satin Brushed

Backlight

LED Backlight, Life Span 50.000 h (Half-Life)

Touch

Resistive Touch Screen (Capacitive Touch optional)

CPU Board

Industrial 3,5" Embedded CPU Board

CPU Type

Pentium N4200, 2.5 GHz (Units with Intel i3/i5/i7 CPU upon request)

Watchdog Timer

Generates System Reset, 256 Levels

RAM Size

4GB/8GB/16GB DDR3L SO-DIMM 1600 MHz, Non ECC

Harddisk/

SSD/Flashdisk SATA 2,5" with > 120 GB/ > 240 GB/ > 480 GB

Flashdisk

External Drives

External DVD Or BlueRay Disk Via USB Port

Keyboard/ Mouse

Via USB Ports

Ethernet Ports

2 x 10 / 100 / 1000 Base T RJ 45 With Status Indicators

Serial Ports

1 x RS232/422/485-RJ10 (Additional 3 x RS232 Optional)

USB Ports

4 x USB 3.0 / 2 x USB2.0

Display Terminals

DP++ DisplayPort For External Monitor

Expansion Slots

1 x mini PCIe Slot, 1 x mSATA/M.2

WLAN/WiFi

Optional

Operating System

Windows 10, 32 or 64 Bit/ Ubuntu 20.04 LTS (Pre-Installed)

Power Supply

12 VDC / 24 VDC / 90 - 230 VAC

Typ. Power Cons. (W)

40

42

54

47

52

49

64

63

Operating Temp.

0 – 60 °C

Storage Temp.

- 20 - 70 °C

Protection Class

IP65/NEMA 4X (Front)

App. Weight in kg

6

7

8

9

9

10

12

13

Depth (mm)

80

90

90

90

90

90

90

90
The unit is equipped with Ignition EDGE Panel and/or Ignition EDGE IIoT from Inductive Automation®.
---
You have further questions before buying? Then please call

+1-563-223-8284 (for customers from United States)
+49 2154-89-1964-0 (for customers from all other regions)
or send us an email (This email address is being protected from spambots. You need JavaScript enabled to view it.)