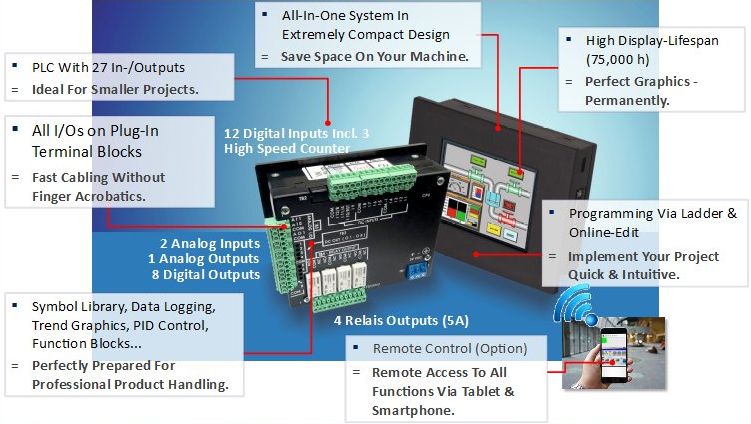 EZTouch-mini.PLC - A complete touch HMI with PLC "for free"!
The brand EZAutomation stands for reliable automation products with high functionality at an unbeatable price point. Hence, this powerful, all-in-one bundle is always the right solution, if you are looking for an easy-to-use product with everything you need on board, but also have to keep an eye on costs. You have the choice: The EZTouch-mini.PLC is available as 4" and 6" versions.
Donot miss this limited time offer: As this is the starter of our online shop, you'll get even the programming software for free!
Order Form | Features | Models | Technical Specifications
---
Features
HMI
• 5.7" or 3.5" TFT Color Touchscreens
• Built-in Image Library (4000+ Symbols)
• Advanced Alarm Messages & Screens
• Email & Text Message Alerts
• Trending Graphs
• Data logging
• Up to 999 User designed screens
• Patented Online Edit of HMI (No Machine Downtime, Edit on the Fly)
• Optional: Ethernet Port for Remote Access and connectivity to PLCs, AC Drives, or 3rd party devices
• Dual Driver Support to simultaneously interface with Major Brand PLCs or AC Drives (Allen Bradley, ABB, Omron, Siemens, Mitsubishi, Automation Direct etc.)
PLC
• Total I/O: 27 points. 12 DC Inputs (250 KHz Quadrature Encoder input configurable), 8 DC Sourcing Outputs, 4 Relay Outputs, 2 Analog In (0-10V), 1 Analog Out (0-10V)
• Auto-tuned PID
• Advanced Math Function Blocks
• Recipe Editing
• Date, Time and Event Based Control • Advaced Ladder Logic Instruction Set
• Quadrature Input for High Speed Counter up to 250 KHz
---
Models

EZ-T4C-MINIPLC
>> Touch PLC with 3.5" TFT Color Touchscreen
EZ-T4C-MINIPLC-E
>> Touch PLC with 3.5" TFT Color Touchscreen & Ethernet
EZ-T6C-MINIPLC
>> Touch PLC with 5.7" TFT Color Touchscreen
EZ-T6C-MINIPLC-E
>> Touch PLC with 5.7" TFT Color Touchscreen & Ethernet
---
EZTouch-mini.PLC Order Form
---
Technical Specifications
Specifications

Type

EZ-T4C-mini-PLC

EZ-T6C-mini-PLC

Description
3.5" Color HMI
Incl. PLC
6" Color HMI
Incl. PLC
Display Type
3.5" TFT
128 Colors
5.7" TFT
65000 Colors
Touch Screen

Analog Resistive Touch Screen (8 x 6 Cells)

Resolution

320 x 240 px

Brightness/Life

400 cd/ 75.000 hours (even at extreme operating temperature)

Screen Saver

Yes (Backlight off)

# of Screens

Up to 999 (only limited by memory)

Real Time Clock/Cal.

Built-In, Lithium coin cell battery with 5 year life expectancy, with a low battery indicator

Total In-/Outputs

12 digital inputs, 8 dig. Outp., 4 relais outp., 2 analog inp., 1 analog outp.

Digital Inputs

4 configurable Sinking or Sourcing electrially isolated inputs, 8 Sourcing inputs (3 inputs configurable for a Counter Quadrature input with A, B, and RST signals up to 250 Khz)

Digital Outputs

8 Sourcing Outputs (50 V, 500mA per output, Short Circuit Proof with Fly Back Diodes and Overload Protection)

Relay Outputs

4 Relay Outputs (1 Form C Relays rated at 5 Amps each with RC Snubber Protection)

Analog I/Os

2 Analog In (0-10V), 1 Analog Out (0-10V) - 12 bit Resolution (0 to 4095)

# of PLC Register

Non-volatile registers/Bits: 8192 (16Bit), Registers: 256, S-bits: 128

Typical Cycle Time

3ms (1k Boolean)

Agency Approvals

UL, CUL, CE

Communication Ports

RS232
Ethernet optional

Operating Temperature

0 ~ +60° C (32 ~ +140° F)

Protection Class

IP65 (front)

Power Consumption

Backlight ON: 12 Watts (24 VDC)

Storage Temperature

-25 ~ +65° C (-13 ~ +149° F)

Relative Humidity

10 ~ 95% (non-condensing)

Electrical Noise

NEMA ICS 2-230 showering arc ANSI C37.90a-1974 SWC Level C Chattering Relay Test

Withstand Voltage

1000 VDC (1 Min.), between power supply input terminal and protect. ground (FG)

Insulation Resistance

Over 20 MΩ, between power supply input terminal and protective ground (FG)

Vibration

5 to 55 Hz 2G for 2 hours in X, Y und Z axes

Shock

10G for under 12 ms in X, Y and Z axes

Dimensions

129 x 104 x 45 mm

204 x 156 x 65 mm

Weight

0.9 kg

1.1 kg

Technical Data Subject to Change

Mechanical Dimensions



---
You have further questions before buying? Then please call
+49 2154-89-1964-0
or send us an email (This email address is being protected from spambots. You need JavaScript enabled to view it.)
Customized Automation - Just Right For You!