The Universal Gateway For Your IIoT Applications
The UT-WM-4312D-4G LTE cellular M2M Gateway is an innovative product for Cloud, Internet of Things and Industry 4.0 applications. It is a perfect choice for remote secured data collection from the factory floor (PLCs, machines, networking devices) and environmental sensors (temperature, humidity, noise, pollution, vibration etc.) as well as for serving control commands coming from Cloud Platforms for changing end-devices status.

Connectivity...
The new UTICOR Gateway uses LTE module which supports 2G/3.5G/4G technologies.
The user has a possibility to choose between three different communication interfaces to connect his end-device: Fast Ethernet ports, Serial port and Wireless Wi-Fi connectivity with 150Mbps link speed.
With Modbus RTU and TCP protocols the Gateway can easily communicate with any compatible device to poll and write all kind of data types. The Gateway can also transfer data to 5 host PCs simultaneously for backup purposes. In addition the gateway supports all common VPN protocols (OpenVPN, PPTP, IPSec) and can establish secured tunneling connection between clients and servers.

Cloud Platform Connection...
The IIoT Gateway supports all common lightweight Cloud communication protocols:
MQTT (Message Queuing Telemetry Transport) including Sparkplug B version for payload and topic definition, CoAP (Constrained Application Protocol) and LWM2M (Lightweight M2M).

Open-Gateway-Konverter...
Thanks to the Open Gateway software feature it simplifies to maximum IoT solution deployment.
Connecting big variety of end-devices, very often with different communication interfaces, to different Cloud Platforms has never been so easy. Open Gateway protocol converter from a very simple and user-friendly web-based configuration interface turns the gateway into a transparent man in the middle between Modbus field devices and MQTT/CoAP/LWM2M servers. The user has a possibility to define and shape the data format before it is sent to the Cloud for secured storing, analysis and Dashboard or
HMI SCADA visualization.

Features at a Glance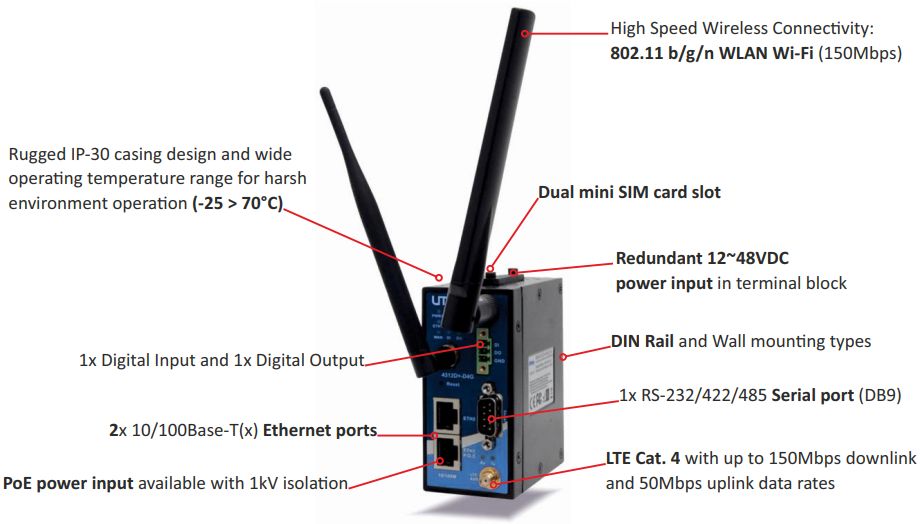 Open Gateway (protocol converter) software feature for user-friendly IIoT deployment
DHCP server and forwarding through PPTP function
VPN for secured connection (OpenVPN, PPTP, IPSec)
Supports NAT (Network Address Translation)
Supports Modbus TCP/RTU industrial protocols

MQTT/MQTT Sparkplug B/CoAP/LWM2M cloud protocols
Firewall features
Event warning by System logs, SNMP Trap, E-mail and SMS
Supports multiple host devices: Virtual COM, TCP Server, TCP Client mode, UDP mode (4 IP Ranges)
OpenWRT SDK for project customization
Application examples...
| | |
| --- | --- |
| | |
| Fig.: M2M Data Collection And Alarm Handling | Fig.: Secure Data Transfer Via VPN Tunneling |