Our Productive Units are available as built-in versions for machines or control cabinets as well as in closed housings. Designed as a PC solution, pure monitor, or Zero/Virtual Client for use in near-production virtualization environments.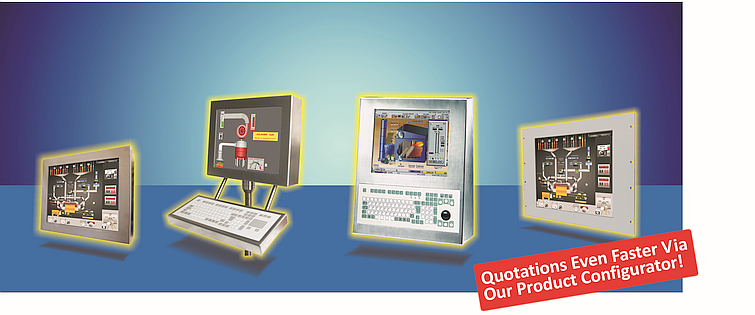 What makes our PC and monitor solutions Productive Units since 2001:
Fully Scalable And Customized
With us you can choose between different basic models with different processor performance and screen size as well as between displays with or without touch function plus versions with or without keyboard. In the event that you prefer a decentralized solution, we also offer pure monitor products without a CPU board. And even if you have special demands regarding dimensions, exterior design or functionality, we can realize this for you. Thus, you always decide for yourself what is best for your application.
High-Tech Meets Stainless Steel
Powerful components deserve conscientious protection. That's why we always rely on a particularly robust, durable and easy-care material for our Productive Units: stainless steel. On one hand, this requires the least possible care and maintenance. On the other hand, all components are thus protected from the front or even completely in accordance with IP65.
Build-To-Order
We do not produce for a supposed need on heap, but configure your solution exactly as you need it. This gives you the confidence to always get the latest components. And at the same time you have the certainty that you will get the optimum solution for your money and your application. Of course, this does not happen overnight - but a few weeks after placing your order, you have your device on site.
You Can Be Sure Of That!
To make you satisfied in the long run, we design our products for permanent operation under harsh industrial conditions. This starts with the development of the product design, goes beyond the conscientious selection of the individual components, to the deliberate production in Germany by our specialists. And to ensure that our customers do not experience any unpleasant surprises after installation, we subject each device to a 48-hour endurance test before delivery. Incidentally, this also applies to our further product range.
>> New Trend: Capacitive Touches <<
Customized Automation - Just Right For You!